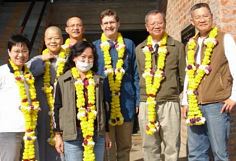 Ven. Guoshyang, David Shih, and Doris of the
Dharma Drum Mountain
, Wen-kuei Jan, the famous scuptor from Taiwan and his friend Yu-wei Chang and Huiji, a member of the team that is making a movie about the
life of Dr. Ambedkar
visited India during January 18-21, 2007.
The delegates from DDM were visiting India to understand situation better and exploring possibiities of making Master Sheng Yen's teachings available in Indian languages. Wen-kuei Jan is a famous sculptor from Taiwan who created many Buddhist images, recently he created a famous image of Samantabhadra in mainland China. He is working on making a brass "Walking Buddha" image for the Nagaloka in Nagpur. Huiji is working along with her husband David Blundell on a movie on Dr. Ambedkar.
Over last 16 years, Lokamitra established contacts with Buddhists brothers and sisters in Taiwan. This friendship has resulted into many projects that are providing a very solid support to Buddhist movement in India. The visiting people were very much inspired by the growing Buddhist movement in India.
Jambudvipa
is being consulted about Master Sheng Yen's translations.
The 36 ft high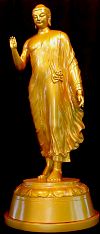 Walking Buddha image
(right)
proposed to be completed at the end of this year in the Nagaloka campus will communicate vision of Dr. Ambedkar to preach and propagate Buddhism all over India. Nagarjuna Training Institute (NTI) is located in Nagaloka trained nearly 280 students from 15 states in India in "Buddhism and Social Work". The aim of the NTI is to create Dhamma workers who can respond to emerging situation conducive to spread of Buddhism all over India.
Nagaloka is conceptualised as a centre of interaction for Buddhists from all over the world and from different traditions. This visit was one amongst a series of such interactions. Interactions at various levels are promoted, including on a grand level, by hosting a
International Network of Engaged Buddhists
(INEB) conference in October 2005 that was attended by His Holiness, the Dalai Lama, besides Buddhist leaders and practioners from abroad and also the conference on "Dr. Ambedkar and developments in Modern World" in October 2006 which also brought together many Buddhists from all over the world.
Story by Mangesh Dahiwale.