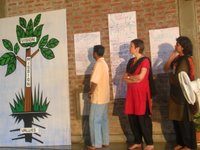 February 14th – 16th saw the first Karuna partner conference at Nagaloka in Nagpur, Maharashtra.

Almost all of the Karuna Trust's 45 project partners attended- one hundred delegates in all- NGOs and projects from all over India and beyond, working in a very wide range of fields. The title of the conference was "Towards a shared vision of Social change". Our aim was to bring people together to share experiences and to establish a sense of working together towards a common vision.

Introducing the event, Karuna Director Suddhaka said "This conference is the realization of a long held dream for us. For many years we have been developing links with groups doing effective and inspiring grass roots work in many different parts of India. Now our hope is that by bringing these groups together we can play a small part in building a movement for social change."

The three day program included talks on such themes as education, caste and Buddhism; presentations on Karuna and the way it raises money; and lastly skill sharing on subjects such as IT, management and planning, and dealing effectively with government.

The key points that emerged were that India is changing very rapidly and is no longer seen by donors as a very poor country. At the same time the issues facing poor communities are as serious as ever. As a result Karuna sees the need to make a shift from funding service provision; to a mixture of service provision, capacity building, advocacy and network building.

The final session looked at specific strengths and suggestions for improvement for both Karuna and its partners; a number of useful points were made in an atmosphere of considerable mutual appreciation. There was a tangible sense of a 'family' of partners emerging, all the more pleasing as many had not met one another before – and it was very much hoped that all sorts of 'cross-fertilisation' and mutually beneficial contacts would be developed over the months to come.

All three nights saw cultural programs, by Ashvaghosa, children from a local TBMSG community centre and kindergarten, and a group of drummers, dancers and actors from Tamil Nadu.

Karuna would like to thank everyone involved in organizing and co-ordinating the conference. Thanks especially to the Nagaloka and Jambudvipa teams who worked hard to make the event run smoothly- to Jane Goldsmith who facilitated the event and brought many creative ideas - to all our speakers and workshop leaders and to all our partners who came and participated in a wholehearted way.