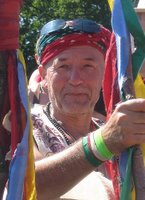 Today sees the start of the 12th Buddhafield Festival – the FWBO's largest event outside India, and a much-loved part of many people's lives. It was sold out over a month ago, with the 500 places for helpers (stewards, site crew, café, healers, and many more) full well before that.
The theme this year is "A LIVING MANDALA - the magic of community", reflecting Buddhafield's growing interests in both creating a large rural practice community and Deep Ecology.
Over the past years the Festival has become more and more of a meeting-place for Buddhists of many traditions, and this year it is hoped there will be people (and in many cases teachers) from the
Amida Trust
, the
Network of Engaged Buddhists
, the
Network of Buddhist Organisations
,
Sokkai Gakkai
,
Gaia House
, the
Tigers Nest Dzogchen community
, Vipassana, and others such as the '
Meditation at Work
' project. This is in addition to many meditation and Dharma teachers from the Western Buddhist Order. In particular the FWBO's founder
Sangharakshita
is expected to attend for the first time and to give a talk, despite his advanced years.
Too much happens over the five days it's on to ever list here, see some past Festival Eye
reviews
and check out the pictures from
last year
here or the
dharma teaching
to get some idea.
And book early for next year!
Labels: Buddhafield, festival, UK