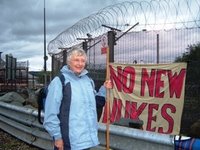 Sophia Young has sent us this report on Glasgow Buddhist Centre's network of engaged buddhists - the Shambolic Warriors.
We celebrated the summer solstice in fine style by taking a six mile hike to the North gate of Faslane naval base and peacefully meditating, dancing and singing outside. On Sunday 24th June - the 20 warriors, two children and a dog gathered on Helensburgh pier and,fortified by homemade scones and flapjacks, began the long trek to the base in heavy rain.
A detour for a cup of tea at the peace camp was made. Under a parachute canopy the shambolics shouted three saddhu's saluting the work of the peace campers who have been maintaining a presence at the base now for twenty-five years. Faslane naval Base situated on the River Clyde is the base for UK's Trident Nuclear weapons System.
The Campaign "Faslane 365" is drawing attention to the opposition that exists in the UK to Trident and any plans to update it. Diverse groups from around the country, including the Shambolic Warriors and the Network of Engaged Buddhists have been taking responsibility for organising individual days of the year long protest.
While there have been complaints about the heavy policing of such events- there are often as many officers as there are protesters, the day passed peacefully and happily, with much banter on both sides. Indeed, our lone protestor on the second day, Shantiketu,was offered lunch and given a lift back into Helensburgh by the duty cops.
The Shambolic Warrior Network was formed two years ago after Parami's Healing Self, Healing World retreat in Dhanakosa and members of the network lead actions in areas of concern to us. We are inspired and sustained by the ideas of Joanna Macy and the Work that Reconnects. Other strands of activity in the network currently include a housing project, environmental events in the centre, personal development workshops and womens group in the centre, outreach teaching of the dharma, cooking for large numbers ( we have the best catered events!).
Labels: engaged buddhism, Scotland