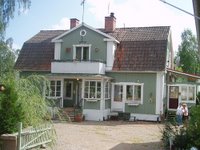 The Swedish Retreat Centre has been inaugurated and given a name by Sangharakshita. Here is a report from Viryabodhi, chairman of the
FWBO's centre in Stockholm
.
"n Saturday the 12th of May we took farewell of Bhante Sangharakshita, who had been visiting Stockholm and our Retreat Centre for a week. It was a very successful visit, the second that our teacher Sangharakshita has made in recent years. The other visit was in June 1999 and much has happened in the sangha since then.
"First Bhante took part in the second half of our Wesak celebrations, held at the Ethnographic Museum in a beautiful setting in Stockholm, and Bhante delivered a thoughtful and long talk on the significance of Wesak and the Buddha's Enlightenment. We had an audience of almost 100 people. In the first half I gave a presentation of the FWBO, with some photos (mainly of the Refuge Tree and Bhante at different times). We also had a short meditation. Taraka introduced Bhante and also concluded by leading a the puja, flanked by two massive Tara rupas from the museum's collections. It was such a privilege to have Bhante here in real life - a big event for us.
"Bhante saw people for personal interviews with Order members and some mitras who have requested ordination, as well as having dinner and informal talks afterwards on three consecutive nights with the women and men who have requested ordination, as well as the members of the local Order. All these meetings were successful and joyful. Everyone seemed pleased to have met Sangharakshita, many for the first time.
"After 5 days in the men's community in Stockholm we set off to the Retreat Centre (2 hours drive northwest of Stockholm), for the 'inauguration' and the giving of a name that Bhante so kindly had agreed to do. This was the culmination of the visit and a delight and blessing. In a simple and profound ceremony Bhante imparted the name: Dharmagiri Retreatcenter (Swedish spelling). Which means: 'The hill where the Dharma is practiced'. 'Giri' (which is pronounced with short "i's") means 'hill' or 'mountain', in this case 'hill'. The place lies on a little hill overlooking fields and a river in the distance, so it feels most appropriate. We could also say 'Dharma Hill' or in Swedish 'Dharmakullen', we'll see. When I got back to Stockholm I looked up 'Dharmagiri' on google and found out that there are several others, a hermitage in South Africa, and also Dhammagiri in India (Goenka's main centre). But I'm sure we can co-exist.
"Before the ceremony we walked around the garden in silence, taking in the surroundings and houses. We concluded with the Dedication ceremony (often used in the FWBO) and a meditation with Bhante, which at least for me was profound.
"There were about 40 people attending the event, some who came up for the day, plus about 25 who stayed overnight. We had a festive meal in the evening and I had a chance to express my appreciation and gratitude to Bhante in public. It seems that he made a strong impression on many people here. Now it is up to us to live up to the vision of the Dharma and the FWBO. I believe we now have a good place and conditions - especially at Dharmagiri - to do that more fully and satisfactorily.
You'll find photos of Dharmagiri
here
or at my
photo site
.
Labels: Sangharakshita, Sweden