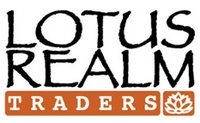 Akasadaka, from Lotus Realm, sends FWBO News this report –
"After a lot of hard work, Lotus Realm Traders, the Sudarshanaloka Mandala's largest Right Livelihood venture in New Zealand, has given birth to… a van!"
They thereby join the proud lineage of Windhorse van drivers, who over the years have between them raised many many thousands of pounds in the UK for Dharma work. He says "Well it's a bus actually. Her name is Rosa and she's a Mitsubishi. She's a good 6.0m long and weighs in at 3.2 tonne fully loaded with product. Her previous life was a Tokyo Library Bus and she still has a rather snazzy Seiko Wall clock above the dash.
We have just completed our first trip (van run) around the Coromandel Peninsula and the Bay of Plenty, surviving cyclonic weather which caused havoc across the top half of the North Island. To her crew's delight Rosa received plenty of compliments along the way and sales were way beyond expectations. It is hoped that this will continue as Sudarshanaloka requires a lot more funds to complete its Retreat Centre project.
Lotus Realm Traders currently consists of six people, and we're attempting to become a Team Based Right Livelihood, in the process of making squillions of moolah (lots of cash). How exactly this will be manifested seems to be an ongoing process, but we do have as our core principles ethical trading, building spiritual community, generating dana and having some insane fun.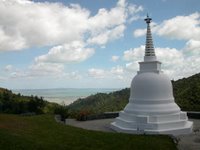 "How can you help? If you have any expertise or skills to offer for free, we would happily accept. The Sudarshanaloka Mandala needs more people in all ways, from helping to run classes and looking after he Retreat Centre to packing orders from our warehouse and keeping shop. Please feel free to contact me (akasadaka [at] lrt.co.nz) if you have some interest in getting involved in what we are doing.
Labels: New Zealand, Right Livelihood, Windhorse