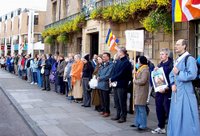 Many around the FWBO have been following the unfolding events in Burma with great concern, and have wanted to demonstrate their concern by taking some sort of tangible action.
The Cambridge Buddhist Centre today organised a Yatra (meaning simply 'walk'), followed by meditation, from the Buddhist Centre though the centre of town to the Guildhall. Some 70-100 people joined and the organisers expressed themselves as "delighted". See a video clip on our
Videosangha website
.
Yatras have been used by Buddhists to help bring peace to several of the world's most tense places, including
Cambodia
and
Palestine
.
Another Yatra is planned in Brighton for Sunday, and others are being organised in Birmingham and possibly London. Contact
FWBO News
for more information.
On Radio 4 Vishvapani presented today's 'Thought for the Day' on the Today programme, he spoke of how he'd returned from a retreat studying loving-kindness only to see words from the same ancient text emblazoned on the monks' banners – and realised how loving-kindness leads naturally to action, even as a mother protects with her life her child, her only child… You can listen to his broadcast
here
.
Meanwhile a number of petitions have been circulating around the FWBO Sangha, one addressed to
Burmese embassies
around the world and one to the
UK prime minister
In the words of the Buddha, please "do what you think it is the time for".
Whatever living beings there may be;
whether they are weak or strong, omitting none,
the great or the mighty, medium, short or small,
the seen and the unseen,
those living near and far away,
those born and to-be-born,
may all beings be at ease.
Labels: Cambridge, engaged buddhism, Yatra