FWBO News is happy to present some more details of Sangharakshita's recent visit to the FWBO's centres in Germany. Thanks to Lalitaratna for sending them.
On the first Saturday morning of this November, Bhante, accompanied by Nityabandhu, flew from Birmingham to Düsseldorf airport in Germany.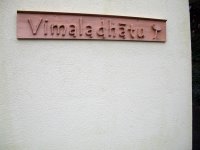 Bhante's first stop was
Vimaladhatu retreat centre
where the public Ordination of Anissita was just taking place. Bhante did not join the throng - later in his trip he would be delivering a public talk and so would meet the Essen Sangha - but kept in the background where he later joined the new ordinand and his two preceptors: Bodhimitra and Surata, for a cup of tea.
Bhante had made it clear that, with a pretty full travel itinerary, it would be best if those who wanted to see him shared his mealtimes with him. The first of these meals took place that Saturday evening at Vimaladhatu when twenty-one men, made up of Order members and GFR mitras, sat down to an excellent meal which was eaten in silence followed by a delightful period of wit and conversation with Bhante.
The next morning Bhante was driven back to Essen - a 110 km trip - to the men's community where he had a short break before meeting Prasadavati and thirteen other women who made up the group of German 'outlying GFR mitras'.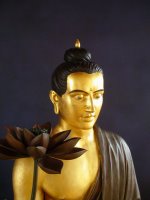 Apart from breakfast time, Bhante shared his mealtimes with gatherings from the Sangha. He dined with the women's community with invited friends; the Karuna group; a men's study group, and finally members of the Essen FWBO council. Bhante offered a question and answer session to the Order members on the Sunday evening and delivered a public talk at the
Essen Buddhist Centre
to 130 visitors on the Tuesday evening. The theme of the talk was his precious teachers, and Bhante later signed copies of his book with the same title.
The day after Bhante's visit, one of the yoga teachers came into the centre and commented on how everybody looked very bright. Bhante Urgyen Sangharakshita's visit was a true gift to the Essen Sangha and it has been, and remains, deeply appreciated.
Labels: Germany, Sangharakshita