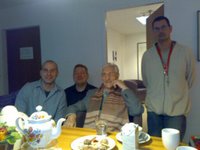 Paul Mcloughlin from
FWBO Düsseldorf
has sent us a short report on Sangharakshita (Bhante)'s recent visit to their sangha there. Sangharakshita only appears rarely on FWBO News these days and we're very happy to reproduce his report here.
"As a relatively new (3 years) member of the FWBO and background team member in our new center in Düsseldorf, I was honoured at the chance of meeting Bhante in a small circle of people. As the weeks and days flew by, my anticipation grew. On the big day I had to laugh as we were still so involved "making everything perfect" that we almost missed greeting our distinguished guest at the door!
"Suddenly Bhante was among us and so normal and human. He was accompanied by his friend and companion Nityabandhu. Very soon it was clear that his frailness was only bodily and that below the surface was a very sharp, wise, loving spirit. Nine of us sat together two hours, laughed and discussed subjects as varied as psychotherapy, the Brahma Viharas, the importance of harmony between team members, Ayya Khema, marriage and Angela Merkel (the last two being separate subjects, smile). Bhante encouraged us, especially through his interest for new, small sangha groups to just keep going. All too soon the visit neared an end, but not before Bhante agreed with pleasure to chant a blessing in our shrine room. Those moments so intense will fire us on for a long long time, to continue to work as a "small team closely knit together by Metta" in Düsseldorf.
"As we stood together in front of our center saying goodbye it really felt as if we were saying goodbye to an old dear friend. THANK YOU BHANTE!!!"
Labels: Germany, Sangharakshita