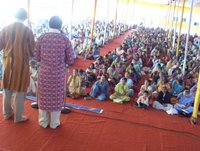 FWBO News is delighted to be able to finally present reports on the three major retreats recently organised by the
Dhammakranti project
. They estimate that around two thousand people have benefited from these events – all the more remarkable in that they were held in northern India, a thousand miles from TBMSG's 'homeland' in Maharastra. This testifies to their increasing success in 'breaking out' and making effective contact with people from other castes and living in other States.
The retreats were held in Bodhgaya, Jalandhar and Haryana, and were followed by a north India Dhamma tour led by Subhuti. This report covers only the Bodh Gaya retreat – there's more to come…
First came the International Dhammakranti retreat at Bodhgaya, which had as its theme "The life of the Buddha". This was a five-day retreat attended by around 1200 people - men, women and children - from 16 states of India. Nagaketu, the retreat's organiser, told FWBO News "It was very pleasing and satisfying for the participants to know Buddha in the place of Enlightenment of the Buddha. They could relate directly to the Buddha, Dhamma and Sangha, they could see history revived before them".
For four consecutive days special Pujas were arranged at the
Mahabodhi Temple
, with two being held right under the sacred Bodhi tree. The highlight and culmination of the retreat were the '
Mitra Ceremonies
', simple ceremonies of commitment performed all over the FWBO and TBMSG, where more than 100 participants from different parts of India became Dhammamitras under the Bodhi tree on 16th Nov 07. As Nagaketu put it "These new Mitras accepted Buddha, Dhamma and Sangha as their highest ideals in their lives".
Various cultural events adorned the retreat, such as 'Kawwali' songs (by a group from Lucknow), a mime show (by Varaprabha) and dramas and songs by children, plus special games & programs for the children. Finally, at the end of the retreat, a special pilgrimage tour was arranged to visit Sarnath, Varanasi, Nalanda, Rajgir, all places associated with life of Buddha and Buddhism.
The last word should go to Nagaketu, who told us "The participants were very positive & at their spiritual height. Thanks to the retreat they could experience a living example of a caste-free society and Buddhist community. Hence they gained more faith in the Three Jewels."
SADHU DHAMMAKRANTI
Labels: Bodh Gaya, Dhammakranti, Dharmaduta, India