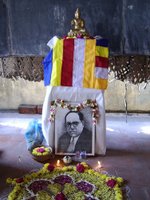 Ashvajit, currently on a Dharma-teaching tour of South India, led a day retreat in Pondicherry on 25 December. Most of the thirty retreatants worked for
ADECOM
, an organisation that co-ordinates the activities of various Dalit NGOs in Tamil Nadu, and which has for some years been one of Karuna's partners in India. All were from Dalit (ex-untouchable or other low-caste) backgrounds, most of them young and thirsty to find out more about how Buddhism might relate to the their plight – caste discrimination is still very strong in southern India, as was graphically illustrated in the caste-based rescue operation after the 2004 Tsunami.
As is customary, the retreat began with songs expressing devotion to Dr Ambedkar, the universally acknowledged hero of the Dalit peoples, and the chanting of the Refuges and Precepts in Tamil, followed by an introduction to meditation and meditation sessions led by Ashvajit. During the question-and-answers following there were also pointed remarks made about the unfavourable impression given by Sri Lankan bhikkhus in the ongoing difficulties between the Singhalese majority and the Tamils in the North and East of Sri Lanka.
After the day, Ashvajit commented that there is evidently a burgeoning of interest in Dr Ambedkar and the Buddha-dharma in Tamil Nadu, where one can see ample architectural, archaeological and literary evidence bearing witness to the fact that Buddhism once flourished in the area. He concluded by saying "If there is to be an early renaissance of Buddhism here, however, many more properly-qualified Buddhist teachers are needed in this southern Indian state of 70 million people". By happy coincidence, January sees a week-long India-wide Convention of our Order in India that will be devoted to exploring ways of providing more training to respond to the vast need for Dhamma teachers across the length and breadth of India.
Labels: Dharmaduta, India, retreat