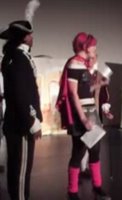 Last summer Locana, the hard-working director of
Life At Work
, a Buddhist Right Livelihood business based in Cambridge, UK, was feeling stressed – and found herself scribbling the opening lines of a "very silly little play".
Over the following months that seed took root, sprouted, grew, and bore fruit recently as the Cambridge Sangha Pantomime, 'Snow White and the Seven Dwarves' – but with a difference… Without wishing to give away too much of the plot, FWBO News can report that Snow White, the beautiful heroine, finds herself knocking on the door of one of the FWBO's men's Buddhist communities – only to be turned away! Of course, that is but the beginning – once the residents of the community see how beautiful she is, she is welcomed in and made most welcome. And the plot unfolds…
The production brought together people from all sections of the extensive Cambridge Buddhist Centre's sangha, and benefitted among many others from the talents of Yashodaka the jazz musician, Subhadra, consultant on the inner workings of men's communities, and Visada, assistant director. Locana described it as "fabulous experience of sangha-building" and, reflecting on it afterwards, amazed herself to realised that throughout the many rehearsals she had not heard a cross word among the cast – who were worked hard! For Locana, it was, in her words, an opportunity "to poke fun at all things Buddhist".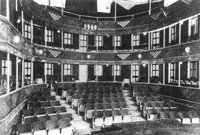 The FWBO's Cambridge Buddhist Centre is blessed by having not only extensive centre premises close to the centre of town but, out back, an entire theatre! This, of course, was the venue for the two nights of performance, when the theatre was filled to capacity. The centre and theatre was purchased by Windhorse:Evolution, the FWBO's largest and most successful Right Livelihood business, ten years ago, and it has been gradually renovated since. The theatre itself dates from 1814 and is one of only a handful of pre-Victorian theatres outside London, in its time playing host to W.B.Yeats and Charles Dickens among many others (and as it happens, home to the first ever panto performed). Most strikingly, it has a large curved screen or 'cyclorama' facing the steeply-banked galleries for the audience. Click
here
for something of its history.
So have Snow White and the Seven Dwarves disappeared so soon, after just two days of fame? Not quite – they live on on YouTube, where you can
watch a trailer
created by Rosie Spiegelhalter (aka Snow White!) for Cambridge's upcoming film night, the movie of the pantomime. And, technology permitting, a version may appear on the Arts section of
VideoSangha
- watch this space!