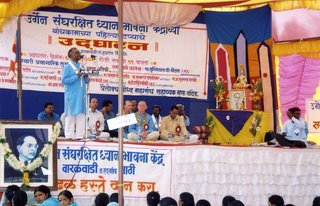 Chandrabodhi in India is about to hold the first 'Buddha Festival' in India. This has been a dream of his since his time in the UK when, while living at Vajraloka Meditation Retreat Centre, he attended an early Buddhafield Festival and conceived the idea of creating something similar back in India. His dream is now coming true, and the Festival itself is coming up soon. In fact it's timed for Wesak, the full moon of May – which this year falls on May 19th.
In the run-up to the festival he's been busy fundraising, and, with the help of Lokabandhu, the FWBO's 'Development Coordinator', has run what's probably the FWBO's first internet fundraising campaign. In fact, in just over three days he reached his target of UK £700 – and he's delighted!
This was achieved using 'justgiving', a UK-based internet fundraising website which allows fundraisers to create simple webpages advertising their project. Each page then provides a simple and secure facility for supporters world-wide to make donations on-line. Although Chandrabodhi's reached his target for international contributions he'd very much welcome further donations; his page is
www.justgiving.com/chandrabodhi
.
Do have a look – and look out for more justgiving appeals in the future!
Chandrabodhi writes -
"I am Chandrabodhi, living in India. Many of you will know me; for many years I have been part of Trailokya Bauddha Mahasangha (as our Order is known in India). I am developing the Urgyen Sangharakshita Meditation Centre at Warakwadi, in the very beautiful countryside near Nanded in Maharastra.
"This year, we are holding a Buddha Festival at Warakwadi to attract the Buddhist and non Buddhist people. This way we want to establish the Buddhist culture, it is a very important part of our vision to attract people in India to the Dhamma. Actually, the inspiration for this came from the Buddhafield Festival in UK; we want to create a 'Buddha Mela' here in India.
"But this is the first year we have done this, and I am appealing for your support. Please sponsor me and help me reach my target of UK £700- this is what we need to guarantee the event is a success.
"The festival will be inaugurated by the Cultural Minister of Maharastra; there will be meditation Workshops led by me, and talks by many distinguished visitors – plus an all-night Cultural Programme. This festival will be on the lines of the Buddhafield Festival in the UK; I want that this Buddha Festival should become the regular feature of our Meditation Centre. This is our first year but already we are hoping for 1,000 people to attend".
Labels: Dharmaduta, festival, India