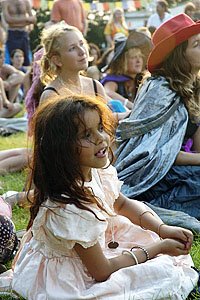 Vajragupta writes with the latest news of the
FWBO International Retreat
, due to start in just over three weeks.
He says -
"There is now just three and a half weeks to go to the FWBO International Retreat and it's getting exciting. In fact it looks set to be the largest FWBO retreat we've ever held outside India. Over 250 people have already booked, including a busload coming from Germany and Northern Europe, and another from Spain. The family-friendly facilities mean that quite a few people are bringing their
children
along and more are welcome of course.
Sangharakshita attending
"Many details of the program have been settled since my last update, and there has been one major new development: Sangharakshita is planning to attend, and will be giving a talk on the Sunday morning. It's not often that he speaks in public these days; this is therefore a rare opportunity for contact with him.
"The overall theme for the retreat is of course 'Beating the Drum of the Dharma'. Other speakers include Ratnaguna talking on 'the Early Teachings of the Buddha', Kamalasila on 'the Meditating Buddha', Parami on 'Ethics in the 21st Century' – plus lots more workshops and groups led by some the FWBO's best teachers. Click here for a full list of the
speakers and teachers
.
For visitors from outside UK there will be simultaneous translation into Spanish, French, German, and Dutch. And many of the facilities are being provided by
Buddhafield
, so things should have that extra flavour of 'Buddhafield magic'…
Book soon!
"It's not to late to book, although there are now only camping spaces available. After May 15th postal and
Internet bookings
will close - people wishing to book after then are requested to phone Taraloka on +44 (0) 1948-710646.
Weekend tickets available
One other change is that weekend tickets are now available, from Friday to Monday. So if you really can't get Thursday off work, come anyway! And when you arrive, simply give that bit less. See the website for suggested details.
"If you are thinking to come, please do book soon – and let your friends know too. That'll make it much easier for us to get in the necessary supplies and make sure everyone can be properly catered for.
"The Buddha said that if the sangha met in large numbers it was sure to prosper. I think this retreat will give many people a wonderful sense of being part of a big, international community of Dharma practitioners. That sense of connection can be so inspiring and important to people at Centres.
"See you there!"
Labels: Buddhafield, FWBO, retreat, Taraloka