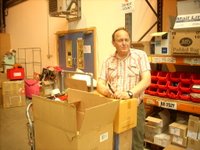 Six of Sangharakshita's books, and one by Vessantara, are now available as audio books, for free download.
Subhadra, their creator, says "The recordings are offered as a free resource for the visually impaired, in the hope they will find them useful and inspiring. They are available for free download and distribution, provided they are not sold in any way". You can access them at his website
Buddhist Audio Books
.
Subhadra was born in 1952 in London, and ordained into the WBO in 1981. He now lives in Cambridge,England and works for Windhorse Evolution - as you can see from the photograph opposite!
Labels: books, disability, Sangharakshita