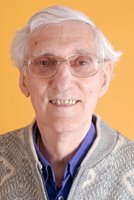 Maitreyaraja, manager of the FWBO's London Buddhist Centre, has contacted FWBO News to tell us -
"On Sunday at 4pm GMT Sangharakshita, founder of the Western Buddhist Order and the FWBO, is being interviewed live on-line by Maitreyabandhu. This event is part of the London Buddhist Centre's 30th anniversary celebrations.
"The interview will explore Sangharakshita's vision for the London Buddhist Centre, his life in Bethnal Green, the building of the Centre in the 1970s, and his hopes for the future.
"This event will be streamed live on the internet starting at 4pm GMT - click
here
to join us".
Labels: FWBO, LBC, Sangharakshita