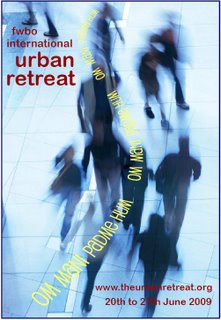 Plans are taking shape for a major new FWBO event: the Movement's first 'International Urban Retreat'.
Vajragupta, who works for the FWBO's Development Team, says -
"This year we are running the first ever FWBO International Urban Retreat. All over the world, local FWBO Centres will run 'urban retreats', all during the same week in June.
"On an 'urban retreat' you carry on living and working in your normal circumstances, but with a difference...

"The week starts with a day retreat at your local FWBO Centre – this will be on Saturday 20th June. During that day you'll be helped and encouraged to set up the conditions to take your practice deeper. To support you during the week, there will be talks, led meditations, and other resources available, both locally and on-line.

"The urban retreat ends with another day event at your Centre on 27th June – this will include the opportunity to reflect on how it went, and where you want to take your practice next…

It's simple enough but the benefits are many –
* you can gain confidence in your practice... the urban
retreat
shows you how you can create positive states of mind in the midst of everyday life.
* you can go deeper... link-up with other people at your Centre and help each other to practice more intensively for a week.
* you can be inspired... you'll be part of an international event, practising with people from FWBO Centres all over the world.
"For those who can't attend an urban retreat at a FWBO Centre, there is the chance to do the retreat on-line - for details check the website
www.theurbanretreat.org
(coming soon) or via the
FWBO Page on Facebook
.
"As part of the retreat we'll be collaborating with various FWBO projects –
Wildmind
,
Free Buddhist Audio
,
Videosangha
, and hopefully
Breathworks
. Watch this space - we'll be posting more details over the coming weeks".
Labels: FWBO Development Team, retreat, websites