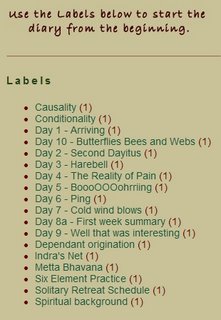 This Saturday's 'FWBO People' post features a lady known only (on-line at least) as 'Hen'. She's a "Singer, permaculture designer, basket maker, aspiring children's story writer and illustrator, bivouac-er, hill walker - and Buddhist".
Hen lives and practices somewhere between the Cotswolds and Exmoor, in England – and last Autumn went on her first two-week solitary retreat, having been to a number of FWBO retreats and centres over the years. On retreat she kept a journal and afterwards turned it into a blog, which we're delighted to feature here.
She writes –
"Many people have said to me that they wish they could do a solitary retreat, because 'they really need one'. That's why I decided to share my experience, to hopefully make going on retreat alone, a bit less mysterious and a bit more 'doable'. "Offered with much love for your continued happiness!"
Hen's blog is at
solitaryretreat-hen.blogspot.com
Just to whet your appetite, she begins –
"The journey here was long, but totally uneventful and when I pulled into the last bit of track to take me up the hill to the cottage I was relieved not to feel stressed out from driving.
"Well, that was until my car broke down half way up a very steep stony bit of the track. The little computer on my dashboard told me that it was the alternator and that I should take it to a workshop. EEEEEK!"
Enjoy…