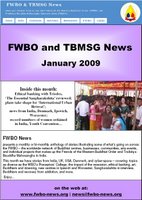 Every one or two months FWBO News produces an anthology of all recent stories that have appeared on the website. It's made available in an easily-printable form; this is intended as a way of making the site (and the stories!) more visible to those who don't find themselves in cyber-space very often.
The most recent edition has just been prepared and covers the period January 2009.
You can download it from the
Resources
section of the FWBO News website, or directly
here
.
Comments and suggestions on the site are always welcome.
Labels: FWBO, media, Online, publications