Dharmamati, Sangharakshita's secretary, writes with his latest news -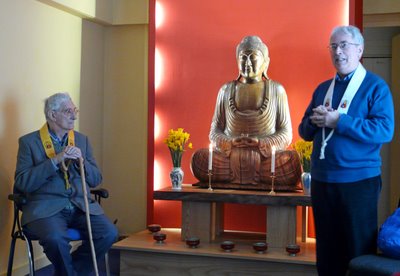 "The first event since the last report was Bhante's visit to Cardiff in Wales. There he inaugurated the new triptych painted by Aloka for the Cardiff Buddhist Centre shrine-room. Before unveiling the triptych Bhante gave a short talk about the significance of Buddhist and Western art and its importance to the spiritual life. Back at Madhyamaloka this was followed by a study seminar on chapters 4, 5 and 6 from the
Ratnagunasamcayagatha
, as translated by Conze. Toward the end of March, Bhante gave a question-and-answer session for participants on the 'Sangharakshita and the History of the FWBO' seminar.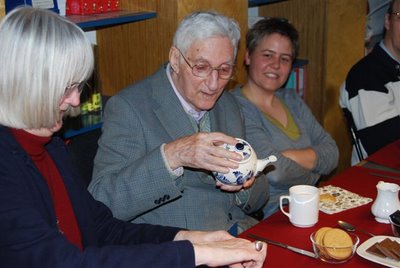 At the beginning of April, Bhante, accompanied by Dharmamati, went to Essen for the Central European FWBO Day celebrations. Besides Germany, Order members came from Holland, Belgium and France. The following day he gave a public talk on the stages of the spiritual path, which was in effect an exposition of his 'system' of spiritual discipline. During his stay he met people both individually and in small groups for meals. He was also taken to two of Essen's parks. One of the most memorable meals was a short drive from Essen in the countryside at an outside restaurant by the River Ruhr. In the warm afternoon sun a group of men Order members and Mitras enjoyed a meal followed by lively conversation with Bhante.
The following weekend, on the FWBO Day celebrations at the Birmingham Buddhist Centre, Bhante, Subhuti, and Vidyadevi each gave a talk primarily to launch Bhante's latest books
Living Ethically
and
The Essential Sangharakshita
. Vidyadevi spoke first about her experiences of compiling and editing The Essential Sangharakshita. Next Subhuti launched The Essential Sangharakshita and spoke at length about his early involvement in the FWBO. Lastly, Bhante launched Living Ethically and spoke on gratitude, ethics, and altruism, sharing his most recent reflections on these issues. (All three talks are available on VideoSangha). In the last week of April Bhante took part in a major seminar at Madhyamaloka, '
Responding to the Cries of the World
'.
Shortly after this, Bernard Stevens from Belgium visited and spent a few days with the Madhyamaloka community and Bhante. He is a writer who is hoping to write a book about Sangharakshita and the FWBO in French.
At the beginning of May, Bhante went to Tiratanaloka to lead study on the
Bodhicaryavatara
with the Women Mitra Convenors. Unfortunately, due to poor health, Bhante was unable to lead the study and had to return to Madhyamaloka (more will be said about this below). Fortunately he was able to recover quickly from this and could meet for two Q&A sessions with the Public Preceptors at Madhyamaloka, both providing opportunities to discuss his
Message to the Order
, already mentioned on FWBO News.
A draft of a new history of the FWBO entitled
You've had the Theory, Now Try the Practice: The Story of the Friends of the Western Buddhist Order
, written by Vajragupta, is currently being read to him for his comments.
In between, and sometimes during, these events Bhante continues to meet people individually virtually every day, deal with correspondence, go for his daily walk, and listen to various articles, including Shabda which is read to him by either Paramartha or Dharmamati.
Bhante's health
: In general, for a man of his age, Bhante's health has been good.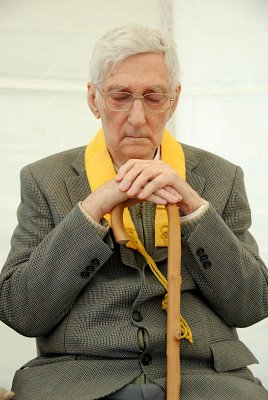 However, he finds on occasions that he does not have a good night's sleep and this leaves him with little energy the following day to engage in activities. This is what happened at Tiratanaloka and earlier in the year at Bristol. Anyone meeting him for any reason is asked to bear this in mind : to please be aware of the time, remind Bhante of it, and try not to extend the meeting much beyond an hour, even if it looks like he has plenty more to say. Bhante also continues to have treatment to his left eye with injections for macular degeneration. He has one more session left.
Future events
: At the time of writing Bhante is about to start a study seminar on the
Bodhicaryavatara
with four Order members and four Mitras from Belgium and Holland. Over the next couple of months Bhante has visits planned to Cambridge, Glasgow, Liverpool, Blackburn and Lancaster where he will be launching his latest books Living Ethically and The Essential Sangharakshita and, where possible, giving Q&A sessions for Order Members and others. He will also be going to Valencia to open their new centre.
So as can be seen Bhante continues to get 'out and about' and contribute substantially to the lifeblood of the Order and Movement.
Dharmamati - Madhyamaloka 15 May 2009
Labels: Sangharakshita