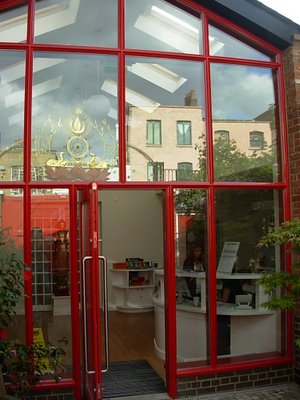 The FWBO's
London Buddhist Centre
(LBC) held a grand public reopening on 8th and 9th May - after the biggest refurbishment in its 30-year history.
The newly enlarged centre includes a dedicated venue for its Breathing Space 'Mindfulness for Health' programme, plus a new bookshop/reception and improved facilities and disability access throughout.
At a private function on Friday 8 May, influential public health policy commentator Lord Layard opened a new venue for the Breathing Space programme, which teaches Mindfulness Based Approaches (MBAs) to help prevent relapse into depression and addiction, and to manage stress and anxiety.
On Saturday 9 May the LBC held an open day – with all events free and open to anyone. The day included meditation sessions and talks about Buddhism and wellbeing. There were also lots of great offers at local businesses in the surrounding 'Buddhist Village', including the Wild Cherry Vegetarian Restaurant, Friends Organic Health Food shop and Evolution gift shop. In the evening there was a celebration, with presentations, live music, and refreshments.
The core course at Breathing Space is Mindfulness-Based Cognitive Therapy (MBCT). Drawing on CBT, it uses mindfulness meditation to help challenge negative thinking that can lead to depression. MBCT is recommended by the National Institute of Health and Clinical Excellence (NICE) and has been shown in clinical trials to be more effective than antidepressants in preventing repeated relapse into depression.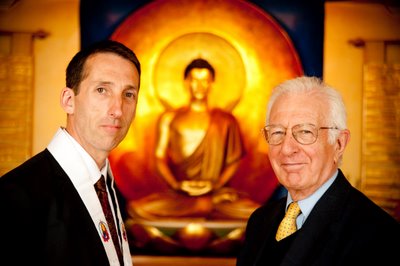 Lord Layard, Emeritus Professor at the London School of Economics and a high-profile commentator on mental health policy, said: "Depression and anxiety are the biggest causes of misery in Britain today, with one in three families affected. As a society we need to act now. There is strong evidence that both CBT and MBCT are effective in preventing relapse. That's why I warmly welcome this new venue for Breathing Space at the LBC to provide MBCT." Lord Layard is well known for advocating a new 'science of happiness', which embraces philosophy, economics, and psychology. In his best-selling 2005 book 'Happiness – Lessons from a New Science' he cites meditation as one of a number of tools we can use to develop happiness from within.
Since its inception in 2004 Breathing Space has helped more than 600 people, through 20 MBA courses and 20 two-day retreats teaching local carers mindfulness-based tools for managing stress and anxiety. It is funded by Tower Hamlets Social Services to provide free places on MBCT courses for people living in Tower Hamlets on a low income, and has contracts with Tower Hamlets and other London Boroughs to provide retreats and drop-in sessions for carers. For more information about Breathing Space and Mindfulness Based Approaches (MBTs) go to
www.breathingspacelondon.org.uk
.
There is a fast-growing body of medical research to show the beneficial effects of meditation on mental health. Studies have shown that it can have positive effect on regions of the brain related to emotional processing and on the nervous system and neurochemicals released in the brain. Breathing Space has produced a summary of some of these recent findings - see
www.breathingspacelondon.org.uk/about-Breathing-Space/about-mbas/meditation-research/
.
The photographs show the new entrance to the LBC and Paramabandhu (the outgoing chairman) meeting Lord Layard during the opening.
Labels: Health, LBC, Mindfulness