FWBO News brings you two stories today from India, both about children.
Prompted by our September story of the London Buddhist Centre's '
Buddhist Sunday School
', Amitayus writes from Amaravati telling of their long-standing children's activities there ; and in the larger central India city of Nagpur Tejadhamma has been bringing together children and animated Dharma: surely a winning combination!
He says - "I recently showed the animated movie on Bodhisattva Kshitigarbha's life to 50-60 children at Nagpur. Many children and parents appreciated the movie and some of the children expressed that they have watched the animated movie of Krishna, Hanuman, Ganesh and other Hindu god/goddesses on TV or cable channels but this was their first opportunity to see a Buddhist animated movie which was so inspiring and they liked it to watch and practice like the Buddhist great people.
"I have seen in many cities in India that the children are spending lots of time watching TV channels but they are not getting any Buddhist culture through the animated movies shown on TV. I realised they need to be shown attractive ways to learn some Buddhist teaching, which is very valuable for human life. I have found that if we talk about what Buddha said, children neglect to listen, so when I was discussing with my colleague about children's activities and the Buddhist culture for the next generation; we found that animated movies on Buddhism would be an easy way to communicate the teachings and this was our first attempt to show the movie on big screen by projector which was so appreciated and helpful .'
'We would like this to show in every Buddha Vihar in Nagpur and the Buddhist centres in India. But this animated movie is in Chinese language; when we showed it, it was translated in Hindi by myself on microphone.
"Now we need to translate in Hindi and make more copies of it. To make this a success I am trying to get an expert translator and raising some funds for screen and projector, making/copying more DVDs with Hindi translation, voice experts to add the Hindi language, animation worker's expenses, studio charges etc.' I would be so delighted to see some interested people in this project who can help financially and through their personal contribution. They can contact me on my email
tejadhamma@gmail.com
Over in Amaravati, Amitayus writes with news of their Buddhist children's activities. He says -
"To the editor FWBO-TBMSG news, Jaibhim!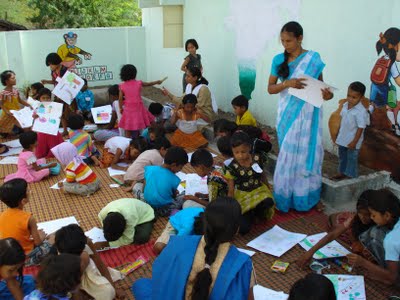 "We are happy to know that the London Buddhist Centre has started a Buddhist Sunday school focusing on children and their development. I heartily appreciate the activities the LBC team are arranging especially the stories and crafts which are the very effective way of nurturing the child's mind. Also it is great to have the
Little Buddha Children's Club
at Nagpur.
"We want to let you know that we at TBMSG Amravati in central India have a history of running successful children's classes since 1994. The outcome of these are that we had many young men and women from that becoming Dhammamitras and many are now working for TBMSG in various places. They strongly appreciate how these children's activities have helped them to understand Buddhism and meditation, and how the ethical practices of Buddhism have helped them to develop their personality.
"It is also prideful for us that we have regular Children's classes in many slums around Amaravati, places like Mahadeo Khori, Panchashil Nagar, and the village Anjangao Bari.
"This class especially has become known to many people in India because the villagers boycotted the local school when it admitted 22 HIV positive children. At that time our Sukhavati women's and children empowerment project (funded by Karuna Trust UK) successfully intervened in the issue and initiated a children's class in this village too.
"Altogether it is clear to us that in all the FWBO –TBMSG there are INCREASING children's projects which are not known to all Sangha members. We are happy to inform you of our activities in Amaravati. I hope you will publish the same through FWBO –TBMSG NEWS , all the news on FWBO-TBMSG is inspiring and experience the sangha success.
"Many thanks, Amitayus"