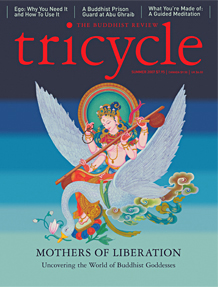 You might want to read the Summer 2007 edition of
Tricycle magazine
which features three FWBO Authors. Bodhipaksa's exposition on the
six-element practice
is an "editors pick" and therefore on the
website
. He introduces the practice which he describes as both highly analytical, and intensely poetic.
Vishvapani
who is becoming a regular in Tricycle wonders whether our new Buddhists in India hold the key to ending Sri Lanka's decades-long civil war. And finally Montreal based mitra Vanessa Sasson writes about conflict and the images we have of foreigners. The articles by Vanessa and Vishvapani are only available online to subscribers.
The issue also includes an article about Michael Dillon who was possibly the first person in the UK to have gender reassignment surgey from female to male. He studied medicine and became a medical doctor. Seeking to escape the glare of publicity Michael fled to India with the intention of becoming a Buddhist Monk. He headed for a monastery in Kalimpong run by an Englishman known as
Sangharakshita
who gave him the Buddhist name Jivaka. Jivaka lived with Sangharakshita for a time and acted as his secretary. He actively opposed Dillon's ordination on the basis that he was born female and was therefore not eligible. Jivaka died in India in 1962.
Labels: Authors, Bodhipaksa, FWBO, Sangharakshita, Vishvapani