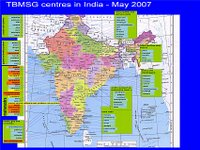 A new map is available on-line of all FWBO/TBMSG groups in India. Click
here
to see it and/or download it from the
FWBO Photos
site on flickr.
This is probably the first time all of our many centres and groups in India have been collected and made visible in this way. Comments and corrections welcome. For contact details for the centres go to the
TBMSG website
; for contact details for the smaller groups the best is to try Nagaloka,
Dhammakranti
outreach project, or the
Jambudvipa
in Pune
There are also maps on the flickr site for the FWBO's centres and groups in Europe, the UK, and around the world.
You might also like to try exploring
Google maps
and searching for 'FWBO' or 'TBMSG' - in many cases, incuding in Inda, it is possible to zoom in to a street-level view of our actual centres. Check the
Mahavihara
in Pune for intance.
Labels: Delhi, Dharmaduta, India, Maharastra, Mumbai, Nagpur