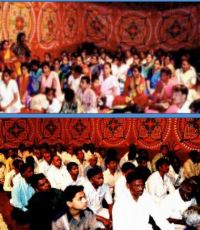 The
Dhamma Night College
in Mumbai is celebrating one year of actitivites - a report by Dhamamcari Amritdeep.
Dhammachari Anomdassi with the help of Amritdeep & Adityabodhi started a Dhamma Night College in Dombivali Mumbai to benefit the working people who can't attend classes due to their jobs. For nearly a year now they have been running classes for three different categories. There is a class for people who have asked for ordination), one for the Mitras, and a class for general people. So far many people have prarticipated in these classes. People from other backgrounds also attend the classes.
The class's main aim is to provide Dhamma teaching to those who don't have good and easy access to Dhamma due to the life in Mumbai so busy, rushing and tense. People have really appreciated the effort Anomdassi Adityabodhi & amritdeep are putting in. Each class has about 30 to 40 people attending each week. A proper syllabus is planned to teach this people.
Anomadassi, Aditybodhi, and Amritdeep are very keen to carry on the activities of the night college in future although there are some difficulties of funds. Karuna initially supported it for six months, but classes are still going on. These Order members are committed to take this work forward. This is really very good initiative taken by this three people, and it is so far very successful.