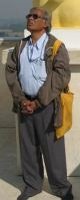 Manjuvir sends us this report of his Dhamma work in India for which he has received funding from the FWBO Growth Fund.
It was quite inspiring work for me as well for others. I developed a good contact with some of the Ambedkarite groups. Many people have a great faith in Dr Ambedkars work but very few knew how to follow the great man's footsteps. I paid visits to some groups in Andhra Pradesh , Orissa, and Pondicherry where I found people associated with the work of Dr Ambedkar mainly through his political vision, but with no vision of the Dharma, in fact many of them are Christians. Constantly telling them about the Dharma some change is taking place and they appreciated my spiritual contact .
I was able to convince them to embrace the Dharma and to come and see Buddhism in Maharashtra, particularly Nagpur on
Vijayadashmi Day
[a holiday in India] since lakhs people do gather at Nagpur every year. Nearly 100 people visited Nagpur in the last couple of years, and
due to this my contact with them is strengthened. At Visakhapatnam in Andra Pradesh the vihara is under construction. Another district place Kakinada there is also a new vihara and of the locals have embraced Buddhism in participating the mass conversion programme at the capital of the state.

In Orissa they organied mass conversion programme on 14th of October [the anniversary of Dr Ambedkar's conversion to Buddhism] and nearly 5000 people embraced the Dharma. Some groups helped to organize the programme of Subhuti recently. I found if we worked properly there is a response to the Dharma and despite difficulty people loves us.

Another aspect of my work was to see people who accepted the Shivdharma in 2005. [Ed. -

This is a militant secular all-caste group which honours

Shivaji

who founded the Maratha Empire in 1675. They favour direct action againt Brahmins.

] It was a great shock to them when next year they found the tribals accepting the Dhamma. In the aftermath of the Khairlanji episode [the murder of a Dalit family] it's clear that the Shivdharmis, like Hindus, do not understand what they lack. If we persist in our approach we can make difference. I organized a few meetings of different tribal people, visiting many villages telling them about the Dharma. Few people were aware that their leaders have become Buddhist. Here our work is just paying visits, giving them news papers reports, or a copy of Buddhayan, Dharmamegha or the other free books we get from Taiwan. The only necessity is a contact as they seem receptive and ready for the Dhamma. Dhamma can end all the ills of the society, they can think and understand.

with metta
Manjuvir.
Labels: TBMSG