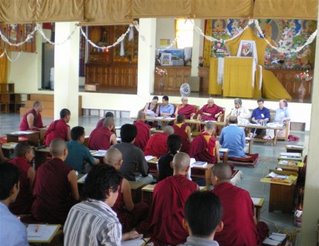 Following on from our report on TBMSG's Delhi seminar, Lokamitra sends us this account of a potentially very significant meeting with senior Tibetan Buddhists in Dharamsala, North India.
This year is the 50th anniversary of Dr. Ambedkar's conversion to Buddhism. In recent years the momentum of conversions to Buddhism from the Scheduled Caste communities (as well as other communities) has been increasing, and this year is doing so even faster. Millions of people throughout India have become Buddhist but very few have access to effective teaching. If they do not get guidance in Buddhism they will either develop very strange forms of Buddhism or they will return to Hinduism and their place at the bottom of the Hindu social order. Whatever the case, the conversion to Buddhism will have resulted in no individual or social change. TBMSG has been working in this situation for 29 years. We are doing what we can through training and through lecture tours and retreats throughout India, but the more we do the more we realise immensity of the task. We cannot do it all ourselves. We have to encourage other Buddhists to help. We can offer them our experience.
In 2005 the Dalai Lama visited Nagaloka and expressed his desire to help with our work. Encouraged by this Subhuti and I visited Dharamsala in October 2006 along with a good friend, Naresh Mathur, who is a member of the Dalai Lama's trust. We had extremely satisfactory meetings with Ven Lhakdor (head of the Library and Archives), Samdhong Rimpoche (the Kalon Tripa or Prime Minister of the Tibetan government in exile) and Tenzin Geche (the Dalai Lama's secretary), all of whom encouraged us to run workshops for Tibetan monks to educate them about Dr. Ambedkar and his Buddhist followers in India.
From 19th until 21st May in Dharamsala we did exactly that. We were assisted by Suvajra, Vivekaratna, Ojogeeta, Yashosagar and Kumarajiv. There were about 35 monks, nuns and lay people, mainly if not all from the Gelugpa tradition, some extremely well studied. In his introduction Samdhong Rimpoche emphasised that the Dalai Lama had himself asked that this workshop to take place.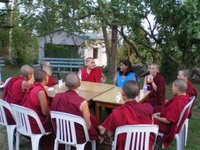 The workshop consisted of a combination of presentations, question and answer sessions and group work. All went very well, but the group work seemed particularly effective. Thinking that most participants would be monks we only took one Dharmacharini with us. This was a great mistake. Almost half the participants were nuns, and Ojogeeta was much in demand.
The workshop gave the participants a broad understanding of the social and cultural situation (particularly caste and untouchability), Dr Ambedkar's life and achievement, and his understanding of Buddhism, and especially its social significance. It helped them understand the Dharmic needs of the new Buddhists, and the possible difficulties, notable among which was the question of karma. There was a great deal of interest in the FWBO/TBMSG. I am sure that the workshop will bear fruit in several ways, most importantly in bringing about more interest in and support for the Buddhist followers of Dr. Ambedkar in India.
Labels: Ambedkar, Dharmaduta, engaged buddhism, India, Lokamitra