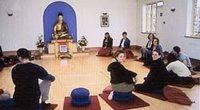 The Brighton Buddhist Centre is playing an active part in the 2007 Brighton Fringe Festival.
At the beginning of the month they hosted an
Open Day
entitled "Looking After Our World", followed by an evening of music with international pianists Glen Capra and mitra
Joss Peach
.
'Zen in the Afternoon', last weekend, brought Japan to the Buddhist Centre, with meditation, poetry readings, Haiku Writing Workshops, a slide show of Japanese temples, tea ceremony, Origami, mini Zen garden making, and even child-friendly sushi-making.
Alongside these all these was 'Emerging', an art installation by
Ingrid Plum
, which explored the connection between sky and earth using devotional texts, a mirror, origami leaves and lotus blossoms. The fragile beauty of the lotus flowers emerges as if from murky water into knowledge in this installation which changes through time, according to the sky.
Here then, form is no other than emptiness
Emptiness no other than form
Form is only emptiness
Emptiness only form…
Labels: Brighton