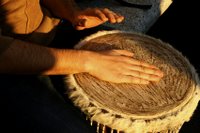 A big marquee has been hired, the first publicity printed, the website is launched, the list of invited teachers is growing… preparations are well underway for the FWBO International Retreat...
Next year, FWBO Buddhist Centres from all over Europe are joining forces in a new venture.
From 22nd to 26th May at Taraloka in the UK, in conjunction with Buddhafield, there is going to be a big retreat. The idea is to bring together people in large numbers to practice, learn about, and celebrate the Dharma of the FWBO. Many of our best and most experienced teachers will be there to teach meditation, give talks, or lead puja and ritual.
Vajragupta, who is one of the main organisers of the event, says: "Everyone from the FWBO is welcome, whether it is your first retreat, or you've been on retreat many times before. Come and experience the magic and inspiration of practising together in large numbers!"
The weekend takes place just a few days after Wesak, the full moon day of May on which Buddhists all over the world celebrate the Buddha's attainment of Enlightenment. So the theme will be "Beating the Drum of the Dharma" – exploring what the Buddha did next, how he took the Dharma out into the world, how he lived-out his newly discovered Wisdom and Compassion.
More details about the event will be available in the autumn. Look out for brochures at your Buddhist Centre and for the website www.internationalretreat.fwbo.org
Labels: Celebrations, FWBO, Taraloka, UK