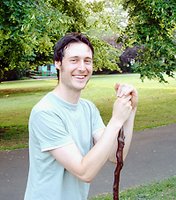 At the end of July Eric Friar from Bristol will be undertaking a 'pilgrimage' to raise money for the
Buddhafield land appeal
. He intends to walk along the St Michael ley line between Cwm Les Boel (near Lands End in Cornwall, UK) and the ancient stone circle of Avebury.
He is hoping for sponsorship and invites supporters to contact him on erichafriar [at] yahoo.co.uk
He says, "I will walk about 185 miles, on top of which I will do some legs by public transport, to arrive at Avebury in time for Lughnasad. I'm thinking of
posting the route
and inviting people to join me for as long or as short as they like. I will be travelling light and sleeping out, so people will need to bring their own food and
shelter".
The Buddha and his followers walked everywhere, and were known as 'yatrikas', meaning simply 'walkers'. For several years Buddhafield led annual walks, known as Yatras, along the Ridgeway to Stonehenge for the Summer Solstice celebrations. It's therefore a pleasure to see this tradition being maintained.
Labels: Buddhafield, Fundraising, UK, Yatra