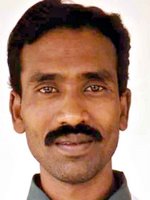 FWBO News is sad to report that an Indian Order Member, Ansulkumar, died in India yesterday, after a serious accident on a motorbike. He is survived by a wife and young daughter. He was 38 years old and worked at Bor Dharan retreat centre near Nagpur, where he was much loved by those who knew him.
Below is a brief account of his remarkable life story, as told to Lokabandhu in the year 2000.
"I was born in Bihar on December 12th, 1969. My people were from the tribal Adiwasi caste, and were Hindus, not followers of Dr. Ambedkar. I had three brothers and a baby sister. Economic conditions were very bad. There was no food and I had no clothes. I was thirteen years old and began to steal and pickpocket. When I was fourteen I was working in a shop, then a hotel, then an iron factory and then a circus, but I was paid only 70 rupees per month. I fell in love when I was still fourteen, but was fearful because there might be violence and even killing if it was discovered. At fifteen I left home, with sadness and no wish to live. I went to the city, planning to die, and the police caught me walking on the railway. They gave me food and I worked in the police quarters washing pots.
For six months I wandered in Bihar, no longer a pickpocket as I was afraid of the police. Then I went to Nagpur on the train, without a ticket. At this time I was very weak, with long hair and dressed in rags. I nearly had a fatal accident jumping on a train. The police took me to hospital, and later ordered me to leave town. Again, I felt I did not want to live. Finally I arrived in Nagpur, where a girl gave me two bananas. I felt very good. I did not want to beg. Later I went into a boy's hostel. The boys in the hostel were very naughty, and we became a violent gang, doing fighting, beating, and robbery. My uncle and aunt took me to another hostel, this time run by Bahujan Hitay. I was eighteen years old.
This was very different - there was discipline, and puja, and no violence. I felt very nervous and thought it was boring. I saw Order Members for the first time, Vivekaprabha and Vimalakirti, and was very impressed. Other people helped me here, and I decided to become a good man like them. I therefore joined TBMSG and attended Dhamma lectures and meditation classes. People still thought of me as a criminal, but I wasn't. I thought of the Buddha gaining Enlightenment, and decided to go into the jungle. I took yellow cloth, and went to stay in the jungle. I had no water or food, and after four days I thought I would not get enlightened there.
At this time there was the opening ceremony for Bor Dharan retreat centre, and Bhante Sangharakshita came on the Maharastra Express. There were huge crowds at the train station, but I pushed my way to the front and gave Bhante a rose. I felt that he saw me and that we were in contact. Still my aunt and uncle were against me practising Buddhism. My aunt brought a 'Tantric Baba' or 'magic man' to cure me. She promised me a wife, a child, and so on, if I would leave it. He used power that came from his eyes, but it did not affect me.
In 1992 I went to live at Bor Dharan community, and there I met Dhammacharis Varaprabha and Nagabhadra, who were anagarikas and wearing robes. I was very impressed and wanted to be one too. Community life there was hard - there was no electricity, no water, no fans, and many mosquitoes. It was very very hot, sometimes as much as 45 degrees. I was working there as a cook, and also doing building work, sometimes for twelve hours a day. In 1993 I became a mitra. I was ordained in 1998 by Subhuti, and took the Padmasambhava practice. My name means "Radiant Prince, the young spiritual hero who shines with spiritual vision." I was ordained with my two friends Kumarayogin and Adityakumar. Now I live in Bhaja village with my wife, and the three of us work at Bhaja retreat centre.
Labels: Death, India, Maharastra, TBMSG