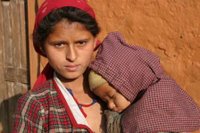 The FWBO's
Karuna Trust
have succeeded in fundraising a donation of £32,819 for a project in rural Nepal run by Dharmacharini Karunamati. Her
Green Tara Trust
exists to help mothers, infants and young people in a region recently ravaged by civil war and where health conditions are amongst the worst in the world.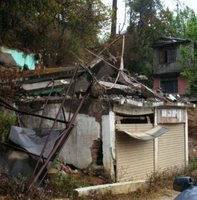 The project will be tackling some of the effects of the civil war - poverty, poor access to (and destruction of) health facilities, the death toll (over 13,000 lives have been lost since 1996) and the flight of medical professionals – all of which have contributed to high maternal and infant mortality, plus high incidences of sexual violence, HIV and other sexually transmitted infections. There are now only 5 doctors for 100,000 people, compared to 216 in the UK. You can read more about some of the background and
Green Tara's involvement
here.
The project itself provides a long-term community-based response to the rural health crisis; educating and helping people to help themselves. In particular it aims to improve maternal and infant health and decrease mortality, and to improve young people's sexual health. It also encourages support and understanding for women and young people in a very patriarchal and hierarchal society, advocating changes to the health system, both locally and nationally, through links with the Nepali government and universities.
More specifically, the project will educate mothers about maternal and child health through group training, a mentoring system, and through providing clean delivery kits and post-natal checks. It will provide sexual health education to young people and encourage behaviour change through setting up peer-led groups and media campaigns. It will train health staff and local volunteers and guide and support the community in advocacy and also work with local GPs, government officials and local NGOs to improve health services and re-write the national health education curriculum. In total it is estimated that the project will directly benefit 5,500 people, predominantly women and teenagers, and indirectly over 100,000 people.
Labels: Fundraising, Karuna, Nepal