FWBO News is happy to present the second dispatch from Saul Deason, a mitra from the FWBO's North London Centre, presently in India for an extended period with two projects teaching English. The first instalment saw him in Delhi with the
Amida Trust
, this comes from Nagpur and the many
TBMSG projects
there.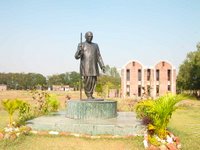 "Arriving by train at Nagpur I hit a seedy hotel mattress and stay on it three days recuperating. This is the lowest point: I begin to think I'll give up and go home. At that instant things begin to happen. I am visited by two Indian Order Members and re-accommodated at
Nagaloka
, the out of town Buddhist training centre. I lay on another bed surrounded by a sea of Hindi voices. I venture out at what I think is mealtime and eat incredibly monastic food.
"Reflecting on the finiteness of my energies I start to work. Three days teacher training at
Mitraloka
, TBMSG's language school in the city centre, goes well. I start speaking classes for advanced students at Aryaloka, a computer training centre also run by the TBMSG. Finally I start teaching speaking skills for basic level Dhamma trainees at Nagaloka. The enthusiasm of the learners is so great that I find myself forgetting my afflictions and work becomes an antidote to my sickness.
"Countless communication breakdowns at Nagaloka help me map out learner needs for speaking skills. I begin to get a fumbling cognizance of cultural sensitivities. Slowly my teaching strategies begin to become more cogent. In the Aryaloka class – in an all-Buddhist part of town - it goes from strength to strength. We start discussing personal development issues –how to meditate, how to kill fear - only to grind to an apathetic halt when we discuss political issues. At Nagaloka the programme is a more basic one for learners with less English: shopping, booking a rail ticket, describing a friend so somebody can meet them at a station, answering questions at job interviews, talking about qualifications and experience... Things threaten to break down under a vocabulary overload so I switch to carrying out numeracy operations (plus, minus, times, into, equals) with students going up to the board and calculating out loud (so their numeracy improves even if their English doesn't!) Trying to break down boredom I get the karate experts showing basic blocks, kicks and punches at the front of the classroom. We even get round to doing Black nationalist poetry: "Play it cool and dig all jive". After class trainees taunt another trainee for liking Kung Fu movies which are hardly non-violent, "I just dig Jackie Chan!" he exclaims. I begin to feel I'm getting somewhere.
"There are features of Hindi discourse that I know I haven't mastered although I teach the functions of insisting, refusing, expressing failure to understand, requesting clarification. Many Indians were taught in English so they often have considerable passive knowledge of English but they all, basic or advanced, have an enormous need for actual speaking practice. I often meet someone who ploughs through a Sangharakshita text but does not understand elementary English requests and cannot tell when he is being told "No!" It strikes me that the more advanced the student the greater the scope for self delusion!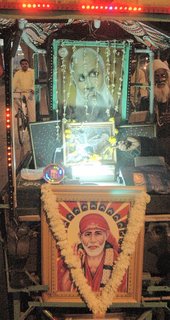 At dawn I walk towards the meditation shrine into the rising sun. In the evening a motorbike picks me up and takes me into town. We drive into the setting sun. My life is both monastic and worldly. From Amida's Delhi Project the advice of Sahishnu echoes in my mind, "if you are not careful you'll end up teaching advanced English to middle class students who can afford tuition anyway." I turn my back on my classes and do walking and chanting invoking Vajrasattva to cleanse me of egotistical motives. I resolve to check out the classes being taught in the slum districts of Nagpur. I reflect on the prospect of recruiting English teachers and have them stay at Nagaloka before sending them on outreach classes that don't burn them out as I had done in Delhi. Foreign funding flows into bricks and mortar but not into staffing so we'd have to train locals to help us run the outreach classes. The Ambedkar movement needs new initiatives and younger leaders say my students but how do we do that when we fail to educate the coming generation? I plant my meditation cushion on the shrine room floor and admit to myself that I just don't know".
You can find a full introduction and background to Nagaloka and many of TBMSG's projects on TBMSG's
Jambudvipa website
.
Labels: engaged buddhism, India, Nagpur, TBMSG