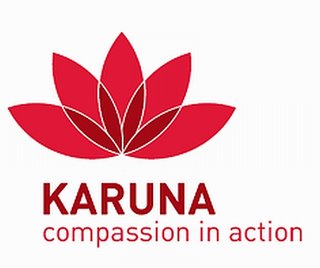 It's nearly the end of April and 2008 is soon to be 1/3rd gone - and over at the Karuna Trust they've been counting their pennies.

Karuna is the FWBO's most successful fundraising charity: it raises over UK £1.5 million every year for a wide range of Dhamma and social projects in India and elsewhere in South Asia – both inside and outside the FWBO and TBMSG. And they have good news to report – Ādarsha, their Trust fundraiser, tells FWBO News -

"Karuna has raised over £118,000 to date this year from Trusts and Foundations. This money is for a number of specific projects working to tackle caste discrimination, enable women's empowerment and provide educational access for disadvantaged children.

"We were going ask FWBO News to run this story when we crossed the £100,000 mark – then the most recent donation, of £13,000, came in. This is for our women's empowerment project tackling incidents of caste-based violence in a particularly poor region of rural Maharashtra. It's run by our partner SPMM who do great work with Dalits and Tribal people in India, helping them combat atrocities and discrimination through accessing legal provisions and protecting their statutory entitlements to education and legal protection. You can read some of the latest – and quite shocking - news from this project on Global Giving , an American internet fundraising site that Karuna use. And click here for a fuller list of Karuna's Global Giving projects.

"This money is of course in addition to the regular donations from Karuna's network of more than 5,000 donors from all over the UK".

Karuna Job opportunities
Karuna has grown substantially in recent years, and the Karuna team in London have a number of job opportunities coming up. Check our sister site FWBO Jobs for the details: they represent a great opportunity to get involved if you want to give real practical help to the 'Dhamma Revolution' in India.
Labels: engaged buddhism, India, Karuna, Maharastra, women