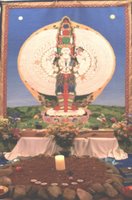 FWBO News is happy to pass on an announcement and request from Helen, Siobhan, & Sue, three women who've requested ordination into the Western Buddhist Order and who together produce one of the FWBO's lesser-known publications – Hridayavani, meaning the Song or Voice of the Heart. They're looking to make it more widely known and also for new contributors. They say -
"Hridayavani is a monthly e-mail magazine for women who have requested ordination into the Western Buddhist Order. Members can report in, express views and generally get to know other women who are similarly seeking to deepen the effectiveness of their Going for Refuge. It helps them get a wider perspective of the movement and keep in touch with women who might never normally meet, except perhaps on retreat.
"If you want to get involved, its easy – just write something for us. It could be just a brief introduction about you and your local situation, or about how you got involved and what inspired you to ask for ordination. You could report-in on anything you'd like to share with. Then send your document preferably as an email with an attached Word document to
hridayavani@hotmail.co.uk
"As soon as your first contribution has been received you'll start to receive Hridayavani each month and become part of the e-sangha. Apart from contributors, the only people who receive the journal currently are Sangharakshita and the Retreat Team at Tiratanaloka. In order to do what we can to maintain confidentiality, we ask that members don't circulate their copy. Finally, receipt of the journal is conditional on active participation; please aim to write in at least every 3 months. – you'll continue to receive the journal for as long as you continue to write in. And if you're writing for the first time, please let us know your postal address, email address + date you asked for ordination.
"We look forward to hearing from you and hope that you'll join us".
Labels: FWBO, Ordination, women