Vivekaratna, the Director of the Nagarjuna Training Institute, TBMSG's training facility in Nagpur, India, has recently returned from a trip to southern India. South India is very very different culturally and linguistically to Maharastra, TBMSG's heartland, and until recently, has had few Buddhists and little contact with TBMSG. However over the past two years there have been Keralan students at NTI and the first of these have now returned home and begun work in their local areas. Last year the FWBO Growth Fund funded three of them so they would be able to focus their efforts on establishing Dhamma activities there. Vivekaratna sends this report -
"I toured to South India from 22nd April to 4th May. The purpose of my tour was to interview the candidates for the 7th Batch of students at the NTI. In addition to that I met with number of institutions as well as individuals. It was very inspiring tour as people are thirsty for dhamma. Padmavir was accompanying me.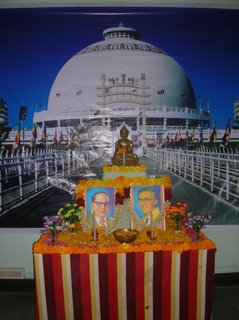 "The highlight of my tour was a day retreat at Kottayam in Kerala. We reached Kottayam at 6.30 am, Subhash met us and took us to the Kerala Social Service Center, where Binojbabu had organized a day retreat. This started at 11.30 as particpants were coming from different parts of Keral (Trivendrum, Kollam, Iduki, Trishur & Kannur). The organisers had made a beautiful shrine. There were 150 participants, a very good audience. They came to understand just Buddhism and stayed through out the day. We were able to interview 9 candidates (7 male & 2 female) for 7th batch of NTI students. After the retreat Rejimon escorted us to Thengana. Four persons were waiting for us till 9pm to conduct Puja at their center. But we could not do the Puja as it was too late and also we were tired by travelling. We took rest in Lodge.
"The next day Rejimon introduced us to his work at Thengana. He had raised local donations for deposit to have accomodation for regular TBMSG activities and also for monthly rent. He has now started regular TBMSG actvities at Thengana. In the morning we visited his center and did Puja and appreciated his dedication for dhamma work without any financial support from us. Local few Buddhists look after his needs. We left Thengana in the aftrnoon for Mynagapally – this is our first TBMSG Center in Keral started by NTI alumni at their own initiative. After three hours train & bus journey, we reached to TBMSG Mynagapally Center at 4pm.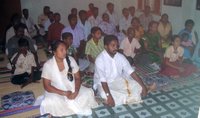 A conversion ceremony was organised at the center at 7.00 pm. The christian family who wanted to convert reached at about 8.30pm. They were coming from 60 kms away and had lost the way too. Mr. Johnson who was at one time an NTI trainee, and his wife Sharika, daughter of Sukumaran who was strong supporter of Buddhism for many years and helping in many ways to Rejimon for spread of Buddhism; were the converts. Padmavir gave lecture on the importance of convertion to Buddhism and Going for Refuge and I led the conversion ceremony that concluded at 10 pm. About 25 local Buddhist witnessed the conversion. We six enjoyed the the dinner supplied to us at the center by three Buddhist families and took rest at Center.
Finally the next day we had meeting with Binojbabu, Subhash, Rejimon, Arun & Rajanikant. We rejoiced in their merits for spreading Buddhism. I assured Binojbabu to support for one more year from the left out of growth fund and suggested him not to find out work outside. Subhash may get scholarship and he is trying for lecturership too. There is a need to support to Rejimon too. We left at 12am to catch a train at Karunangapally railway stn for Bangalore.
Labels: Dharmaduta, India, Kerala, NTI