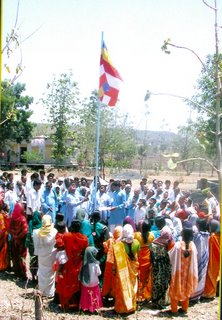 Chandrabodhi has sent FWBO News this report of the first 'Buddha Festival' in India. Publishing it was delayed until we had received photographs of the day – however we are now pleased to present it to you. The event had an added significance in that it was the successful culmination of an 'internet fundraising' appeal by one of our Indian centres; they were delighted to be able to raise UK £733 for the event in little over a week! This was thanks to a new facility on the 'justgiving ' website – see
www.justgiving.com/chandrabodhi
for details of the appeal.
Chandrabodhi writes -
"On 19th May 2008 we held the first 'Buddha Festival' in India, at the Urgyen Sangharakshita Meditation Retreat Centre near Nanded. We started with chanting – the Tiratana Vandana, Shakyamuni mantra, Metta Bhavana and Sabbe Satta Sukhi Hontu Mantra. Then we started to make the shrine, which was set up under the shade of a 'pandal', in this way we accommodated the 500 to 600 people who came.
"At 10am there was a 'Dhamma Dhwaja' (Flag Hoisting) by me. There were 100 people at that time, after it people began to arrive in larger numbers. As part of our welcome programme we garlanded local social workers who had done excellent work in our community. One, whose age is 78 years and who had been a freedom fighter working for the social movement since 40's, narrated to us some of the history of his work of the last 50 years.
"There was a full length talk, given by Dh. Surangam on the topic of "Buddhism and Buddhist Culture". He was describing the present situation of the so-called Buddhists and what they are supposed to do in future to practice Buddhism and create a Buddhist Culture. His talk was so impressive that many people put the figures in their mouths in astonishment and appreciated the suggestions given by him..
"In the afternoon was a very appealing and heart touching programme - the conversion programme of a family coming from the 'Matang community'. This is one of the Scheduled Castes, their traditional occupation is that of 'plastic bag scavenger', and they are very poor. During the ceremony I stressed that no one can become a real Buddhist until and unless he/she takes Diksha (conversion). Although the ceremony was organised just for one family other people joined it spontaneously – afterwards the 'Diksharthis' (the new Buddhists) said they felt as if they got a new birth by embracing Buddhism.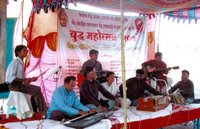 "Later there was a cultural programme presented by Amitayus and the Ashvaghosa Cultural team from Amaravati. We provided food to each and every one who were present. There were about 500 people who took the food.
"In the evening there was again a cultural programme, this time of local singers who sang songs spontaneously, some girls presented a dance programme on celebrating Dr. Babasaheb Ambedkar and the Buddha. Throughout the night a singing party from the nearby village (Patnur) continued, this went up to 6:00 in the morning of 20th May.
"This way the first Buddha Festival organised by TBMSG Nanded at the Urgyen Sangharakshita Meditation Centre became successful in all respects. Afterwards I heard the people were murmuring that this type of Buddha Festival should be arranged every year. I feel that this was the receipt given by the people for our excellent programme. I am sure that this festival will become a regular feature of our activities. Thank you to all who supported us.
"With metta, Chandrabodhi"
Labels: festival, Fundraising, India