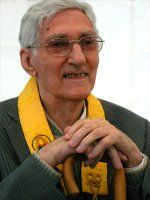 Upekshapriya from the FWBO's 'Videosangha' project has contacted FWBO News to say -
"You might want to let your readers know that Bhante's latest talk 'The Growth and Prosperity of the Sangha' given at the FWBO International Retreat is now available on
www.videosangha.net
. The direct link is
here
".
Since Videosangha was launched in 2007, it has grown rapidly to become an extensive video resource for the FWBO worldwide, with well over 100 videos spanning 24 'categories'. There's everything there from answers to those
awkward questions
("are buddhists allowed to have sex...?") to many individuals recounting their first meetings with
Sangharakshita
- to others reflecting on their own
ordinations
...
Adding new videos is easy - simply upload to YouTube or Google Video with an 'FWBO' tag...
Labels: Clear Vision, Sangharakshita, Taraloka, Video