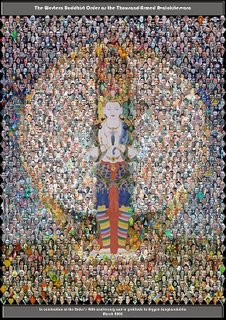 On Monday June 9th, at 10am GMT (11am local time), 16 men will be publicly ordained at the FWBO's Guhyaloka retreat centre in Spain
At exactly the same time, there will also be 15 women publicly ordained at Akashavana, also in Spain.
Coincidence? – who knows! Either way, we look forwards to bringing you the new names as soon as we hear them. Meanwhile, readers are invited to explore the 'Order Mosaic' by clicking on the image opposite, this leads to a webpage-mosaic of the Western Buddhist Order and most (though not
quite
all) of its 1,500 members worldwide...
Labels: Online