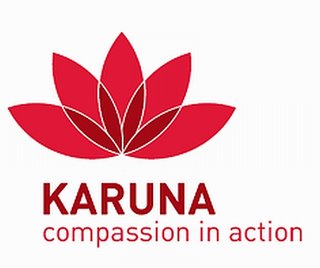 The
Karuna Trust
is the FWBO's largest and most successful fundraising charity, sending well over UK £1,000,000/year to a wide variety of projects in India, Nepal, Bangladesh, and Tibet. In recent years their focus has shifted from the approach of 'Aid for India' (their original name!) to encouraging projects that specialise in helping India's disadvantaged peoples effectively and peacefully access their legal entitlements.
These naturally include India's more than 200 million Dalits and Tribal people, from whom come the vast majority of India's Buddhists, including of course members of the TBMSG. While India as a whole has become increasingly prosperous over the last decade, discrimination of all sorts is still rife, and especially discrimination based on the age-old and scripturally-sanctioned caste system.
Two such projects which have been funded by Karuna are the 'Dalit Rights Initiative' (a part of India's '
Human Rights Law Network
') and '
Social Jurist
'. Both have hundreds, if not thousands, of stories to tell, and we have posted a few of these on the FWBO News
Features
page.
Ananta from Karuna comments "In spite of the harrowing content, the stories move towards a 'happy ending' which I found uplifting not least because our efforts are supporting this work. The full list of cases is available on their websites if you want to read more".
There is a growing trend of 'advocacy' work that often uses the internet – Karuna's attention was recently drawn to Meena Kandasamy's blog, a 24-year–old Tamil woman who is self-confessedly "obsessed with revolutionary Dr.Ambedkar's message of caste annihilation". Her
blog
describes the punishments meted out to 'dangerous Dalit women' seen as witches by caste Hindus.
She ends with words that could almost have been written of the 'witches' and witchcraft trials of Briain and the US in earlier centuries:
"…in witch-hunting, the victims are also single (read widowed/ deserted/ divorced) women of a certain age who are no longer burdened with reproductive duties. The word 'witch' is thrust on these 'dangerous' women who asserted their entitlement to rights and thus challenged patriarchal and caste supremacist diktats. Dalit or Adivasi (Tribal) women who dared to contest elections and directly challenged the political power of the landed caste-Hindus have been labeled hags. They have been accused of exercising black magic when in fact they have only been exercising their fundamental rights. Witchcraft, when used by brutal caste-Hindus in the modern context, has come to signify women's resistance to oppression, and the price they have paid for it".
Click
here
to read some of the full stories from the '
Dalit Rights Initiative
' and '
Social Jurist
' projects.
You can donate to Karuna via their website,
www.karuna.org
.
Labels: engaged buddhism, India, Karuna, women