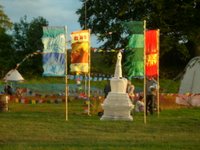 The 13th Buddhafield Festival ended yesterday, with over 2,500 people heading home after a rich weekend on Buddhafield's beautiful new site in the Blackdown Hills, Somerset. It was Buddhafield's largest-ever festival and something of a risk given the new site and the increasingly uncertain weather of the British summer.
The Festival was dedicated the theme of the Six Elements – Earth, Water, Fire, Air, Space, and Consciousness, with rituals each day dedicated to one of the Elements. For Water, for instance, those participating gathered by the side of the lake for the recitation of verses of meditation. On the last night, for the closing ceremony and to celebrate the element of Space, many papier-mache hot air balloons were lit which flew up into the air and away – a beautiful sight.
Some photos can be seen in the attached slideshow or on
FWBO Photos
, FWBO News would welcome links to other online photos from the Festival – just let us know by posting a comment on this post. The slideshow takes you on a journey through the Festival, from arrival, to meeting the stewards, to the opening ceremony, the many shrines, a whistle-stop tour of a small selection of the hundreds of gems scattered through the site - and last but by no means least, a study of the remarkable paper stupa in the centre of the site.
Labels: Buddhafield, festival, Interbuddhist