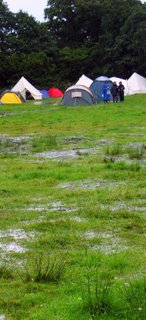 The FWBO's
Buddhafield
project has been running retreats and festivals for over 15 years now, with around a dozen retreats of all shapes and sizes offered every year – but all in fields, and mostly in the West Country of England.
Their largest has always been the annual 'Child-Friendly' retreat, which aims to be exactly what it says – friendly to children (and parents and all, of course!) This year's was the largest-ever, with some 250 people attending – including, of course, lots and lots of children! It was the second time they'd held the retreat on their new land at
Frog Mill
, 18 beautiful acres in the Dartmoor National Park.
It being Devon, and the British summer, they knew the weather was always going to be uncertain – but they'd never had such a downpour as they did on the first days of the retreat! Devapriya, its leader, had his caravan on site and reported the land around him became a lake, a lake so deep that it flooded over the tops of people's Wellington boots!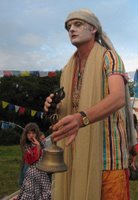 He went on to say the children hardly seemed to notice anything was wrong – "yippee, it's a flood", they said, and off they went paddling but that it was more challenging for the team and many of the less experienced campers - but they rapidly regrouped and got on with it. The 'tea tent' and kids areas were also totally flooded, as were many individual people's tents. Padmapani, one of the meditation teachers, returned to find his airbed FLOATING inside his tent – by great good fortune his cameras and a selection of hand-painted Tibetan thankhas has been left on TOP of the bed and survived! Happily the shrine room itself was not flooded and Devapriya also reported they'd never had such high attendance at the meditations!
With a month of the Buddhafield retreat season still to go they are hoping for better weather in September. If you fancy a retreat who not consider coming – and, if you don't want to chance the weather, check the FWBO website
www.goingonretreat.com
which carries details of all FWBO retreats in the UK.
Labels: Buddhafield, children