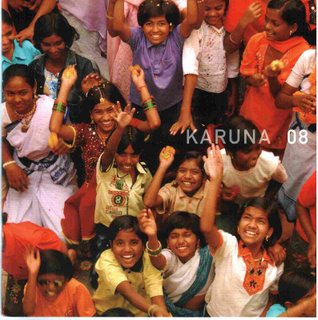 The FWBO's
Karuna Trust
raises over UK £1.5 million/year for a multitude of social and Dharma projects in India. They've just published their 2008 report ('Karuna 08) – it's a beautiful and inspiring piece of work. Look for it at a Buddhist centre near you, or check their
website
.
The report this year focuses on caste, "an ancient injustice", and gives glimpses of many aspects of the work of Karuna's many partners in India – ranging from publicising the many ongoing atrocities inflicted on low-caste people, to emerging initiatives to build a truly casteless society.
Karuna's work is largely sustained by regular team-based door-knocking appeals all over UK. Through these, they have built up a network of over 7,000 committed donors and also learned how to make the act of fundraising into an intense and effective spiritual practice.
Check their
Appeals website
for a treasure trove of real-life fundraisers stories – and details of upcoming appeals. To quote just a fragment from Jo's blog (Jo was on the June London appeal):
"There is something deeply irrational about volunteering for a Karuna appeal...it has no logic to it whatsoever! Why would I want to go out there on the streets risking feelings of shame, humiliation, rejection, anger? - but also, risking feelings of connection, openness, love, generosity, positivity? Sometimes I find the more positive feelings more difficult to open to. Take "Danny" that I met last night.…"
Read more on Jo's
fundraising blog
...
Sadhu Karuna!
Labels: engaged buddhism, Fundraising, India, Karuna