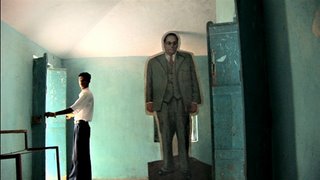 '
Recurring Dream'
is the third in a five-part series of films by Suryaprabha, a Order Member who's also a veteran film-maker and chronicler of the Friends of the Western Buddhist Order (FWBO) and its Indian counterpart the Trailokya Bauddha Mahasangha (TBMSG). He's best–known for the much-loved four-part series on the
FWBO's history
: this just-released film is part III of his latest and current project 'Earth Rising, Heaven Descending'.
The five-part series of films is subtitled "on a search for a spiritually meaningful way of life" and in each film Suryaprabha captures the conversations, images, dreams, reflections, laughter, contradictions and craziness in the people that make up the FWBO/TBMSG Sangha in one or another part of the world. Part I set the scene, part II looked at America.
Part III,
Recurring Dream
takes him to India, and it's great! If you've never been to India, it'll take you there; if you have, it'll take you right back there...
India is full of unlikely spectacles, and Recurring Dreams is full of them. Where else would a brass band accompany someone as they walked down the road to deliver a talk? Where else would you find a stadium full of people ritually dissolving the five elements in their bodies to leave only space? And where else could you see the grainy 50-year-old footage of Dr. Ambedkar as he led 300,000 of his followers away from Hinduism and to a new life as Buddhists?
In its 65 minutes Suryaprabha manages to pack in a great deal of serious and often very intimate content– we witness the hopes and aspirations of young orphans growing up in TBMSG hostels; the frank admissions of women living in a Buddhist community as they discuss between themselves their plans up until marriage (and beyond!); the rousing exhortations of Subhuti as he urges his listeners to initiate a "peaceful revolution". We glimpse the appalling caste violence that mar the lives of many Dalits in India today, and end with the spectacular extravagance of an inter-caste wedding.
'
Recurring Dream
' is available from Suryaprabha's company 'Lights in the Sky', the price being £15 for personal viewing and £44 for public showing. Highly recommended.
Click to watch a
slideshow
of the movie or to visit the
Lights in the Sky
website.
Contact details:
'Lights in the Sky', 72 Holloway Road, London N7 8JG
t: (020) 7607 9480
Review written by Lokabandhu.