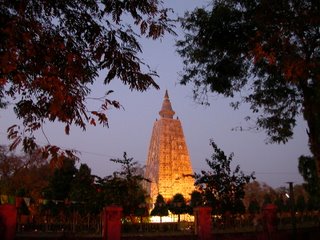 Nagaketu, Executive Director of the TBMSG's 'Dhammakranti Project' in India, has written to FWBO News to say –
"We are very happy to inform you that the TBMSG's
Dhammakranti Team
is organizing the 7th International Dhammakranti Retreat at Buddha Gaya (in the State of Bihar, India) from 1st to 6th March 2009. All readers of FWBO/TBMSG News are warmly invited to attend.
"This is a good opportunity to practice in the most holy place for Buddhists in the world. It is a rare opportunity to practice and learn the Dhamma with hundred of other Buddhists from India and the World.
"This will be the third and largest International Dhammakranti Retreat in Buddha Gaya organized by the Dhammakranti Social Institute, TBMSG, India. These retreats have made a considerable impact throughout India, giving people from all castes and classes an opportunity to practice Dhamma together and form a Casteless Society in the true sense. In India this is truly a precious opportunity.
"Many people from very poor economic backgrounds, from many Indian states, are going to participate in the retreat. A donations scheme is being set up to assist many of them to attend, and this report is an appeal for donations – see the contact details below or our special fundraising website
www.justgiving.com/bodhgaya
. Your donation will help hundreds of India's new Buddhists to have this unique experience in their life.
"Come and join this historic event to transform our society to a New Society – one based on Liberty, Equality and Fraternity, and fulfill the dream of Bodhisattva Dr. Babasaheb Ambedkar.
"The major attractions on the retreat are Meditation under the Bodhi Tree, Dhamma Talks, Buddhist Rituals, Group Discussions & Cultural Activities. All present will be making a contribution to reviving the Dhammachakra (Dhamma Revolution) in the World. Dhammachari Subhuti will lead the Retreat. The retreat will be held at the Nyingma Monastery in Buddha Gaya.
"For more details please contact us at
nagaketu@hotmail.com
, tel 0091-9371181404, or check our website
www.dhammakranti.com
.
Labels: Bodh Gaya, Dhammakranti, Dharmaduta, India, retreat