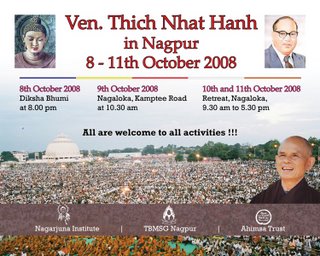 Order Members and mitras in Nagpur, India, are busy organising a major visit to Nagpur by Thich Nhat Hanh. The visit coincides with the anniversary of Dr. Ambedkar's conversion to Buddhism, which took place on October 14th in 1956. Up to a million Buddhists converge on the city at this time.
Thich Nhat Hanh will be at the 'Diksha Bhumi', or 'Ground of Conversion' on October 8th, followed by an appearance on 9th as Guest Speaker at Nagaloka's annual anniversary programme, followed by a two-day retreat, also at Nagaloka, on 10-11th October. He will be accompanied by up to 40 monks and nuns from Plum Village in France.
Nagaloka says "All are invited for the retreat" – as well as for the public events of course. More details are available on the Events page of their new website
www.nagaloka.org
.
Labels: Interbuddhist, Nagpur, TBMSG