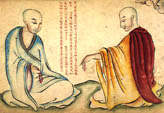 This is just a wee note to let you know about the launch of the first
all new
sections of the Dharma Training Course. Modules on 'The Sangha', 'The Buddha's Eightfold Path', and 'The Bodhisattva Ideal' are now live...
In case you're not familiar with it, the new course is designed primarily for
Mitras
('friends') involved with the FWBO Buddhist community. It aims to give people in the FWBO a thorough grounding in Dharma study and practice. It also makes an excellent general course for anyone interested in putting Buddhist teaching into practice in their life.
The
first parts of Year Two
are now available online, with full references embedded in the study files themselves. We've formatted these files to print out for use in a study group, and also to make them easy to read, navigate and search on-screen.
The rest of the course is currently being developed by a number of members of the Western Buddhist Order. New modules will be made available as they become ready through 2008 and the beginning of 2009. Check out each year's page for an advance preview of what's in store, and to sign up for regular updates on new sections as they become available.
At present, the course is being hosted on
Free
Buddhist
Audio
, and you can access it easily from there too via the 'Study' section.
Happy faring...
with best wishes,
The Free Buddhist Audio Team
ps. The new site has been developed to enable a free service to be kept in place for all users. To help us keep the service free, please think about making a donation. Many thanks!
Labels: Dharma teaching, Free Buddhist Audio, Mitras, Online