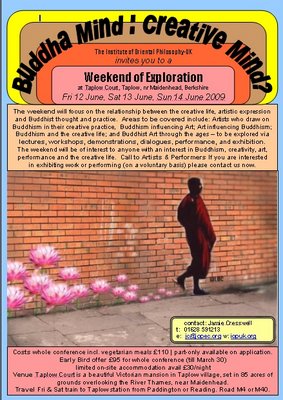 June will see the second conference in the 'British Buddhist Landscape' series. Entitled "Buddha Mind: Creative Mind?", it'll look at the relationship between the creative life, artistic expression and Buddhist thought and practice.
Areas to be covered include exploring the work of artists who have drawn on Buddhism in their creative practice, the twin topics of Buddhism influencing Art and Art influencing Buddhism; Buddhism and the creative life; and Buddhist Art through the ages – all to be explored via lectures, workshops, demonstrations, dialogues, performance, and exhibition.
The weekend will be of interest to anyone with an interest in Buddhism, creativity, art, performance and the creative life. A number of FWBO artists from the
London Buddhist Arts Centre
are already planning to take part.
The organisers are putting out a call to artists and performers – anyone interested in exhibiting work or performing (on a voluntary basis) is asked to contact them now at
jc@iopec.org
.
The conference is organised by the Institute of Oriental Philosophy-UK in conjunction with the UK's Network of Buddhist Organisations, of which the FWBO is an active member. It will be held at Taplow Court, IOP-UK's beautiful headquarters, set in 85 acres of grounds overlooking the River Thames near Maidenhead.
For full details, click
here
.
Labels: Arts, Interbuddhist, retreat, UK