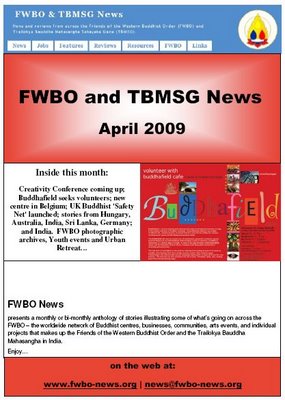 There's a new '
Anthology
' of FWBO and TBMSG news available, covering the stories that appeared over the month of April this year. It's available (along with other Anthologies) on the 'resources' page of the FWBO News' website, where it is easy to print out for use in Buddhist Centres.Click the link above to access it.
In case you missed them; stories over the past month covered such topics as -
A major conference coming up in the UK on Buddhism, Arts, and Creativity;
Buddhafield seeking volunteers for its summer season;
a new FWBO centre in Belgium;
a 'Safety Net' launched for UK Buddhists,
Youth events
and (very important!) the upcoming FWBO International Urban Retreat….
There's news from Hungary, Australia, India, Sri Lanka, Germany; and India. There's new images on FWBO Photos offering glimpses into the FWBO's archives - and plenty more.
This month we've also made it available in a new interactive on-line format using ISSUU - you'll find it and other FWBO literature, including Sangharakshita's Complete Poems here -
http://issuu.com/fwbo
.
Labels: FWBO Development Team