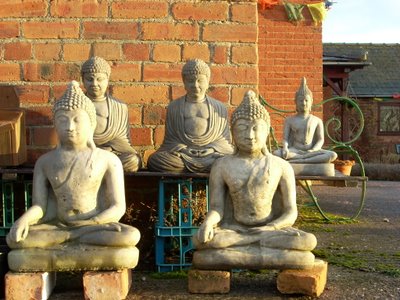 It seems the Buddhas and Bodhisattvas are gathering this month in Shropshire, UK - in readiness for Taraloka's annual Great Gathering, to be held over the late May Bank Holiday weekend, ie May 21st - 25th.
Taraloka (
www.taraloka.org.uk
) being, of course, the FWBO's women's retreat centre in Shropshire, UK - and the proud holders of two "Retreat Centre of the Year" awards from the Good Retreat Guide.
They say -
"The programme this time will be based on Tsongkapa's Three Principle Paths : Renunciation, Bodhicitta and Wisdom. The weekend includes a talk on each of the three paths; led reflections; discussion groups; pujas; and conversation cafes. This last being a conversational process that Parami and Kuladharini have been using successively in various situations - on the women's day of the Indian convention was one occasion, for those of you who were there. See www.theworldcafe.com for details".
All women Order Members and Mitras are welcome, please see their website for details and booking.